Stretch Our Your Hand.
---
In the United States:

The Memorial of Saint Peter Claver, Priest & Religious.

Lessons from the primary feria for the Twenty-Third Monday of Ordinary Time, according to the ordinary form of the Roman Rite:

• Colossians 1: 24—2: 3.
• Psalm 62: 6-7, 9.
• Luke 6: 6-11.

…or, any lessons from the common of Pastors for One Pastor, or the common of Holy Men & Women for Those Who Practiced Works of Mercy.
Outside the United States:
The Twenty-Third Monday of Ordinary Time; or, the Memorial of Saint Peter Claver, Priest & Religious.

Lessons from the feria as above; or, if a Mass for the Memorial is taken, lessons from the feria or from the commons as above.
---
The Thirteenth Monday after Pentecost; and, the Commemoration of Saint Gorgonius, Martyr.*

Lessons from the dominica,** according to the extraordinary form of the Roman Rite:

• Galatians 3: 16-22.
• Psalm 73: 20, 19, 22.
• Luke 17: 11-19.
If a Mass for the commemoration is taken, lessons from the common "Lætábitur…" of a Martyr not a Bishop:

• II Timothy 2: 8-10; 3: 10-12.
• Psalm 36: 24, 26.
• Matthew 26-32.
FatherVenditti.com
3:34 PM 9/9/2019 — The memorial of this holy Jesuit priest from Catalonia, who ministered almost exclusively among African-American slaves, and who was nearly martyred by slave traders, has always been obligatory the United States. It is only with the promulgation of the most recent translation of the Roman Missal (Third Edition) that it was added to the calendar of the Universal Church as an optional memorial. Born in Barcelona 1580, Claver was a Jesuit missionary who ministered to African slaves as they arrived at the South American seaport of Cartegena. Enduring the derision of the slave traders, he fed the hungry, cared for the sick and dying, preached the Gospel, and baptized converts for nearly forty years. He passed away in 1654.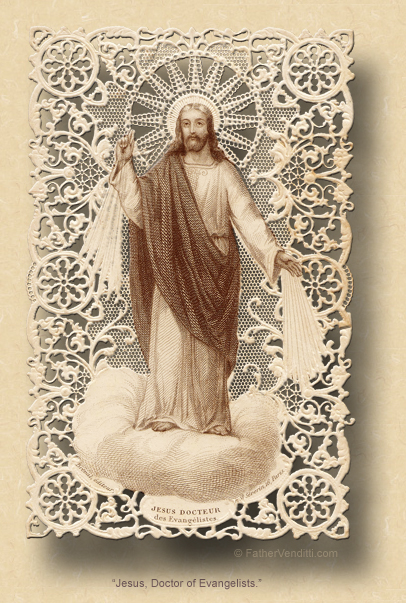 Just a few reflections on the cure of the man with the withered hand, the episode of which begins most curiously. Saint Luke gets right to the point in telling us that our Lord walked into a synagogue to teach where there was a man with this deformity, and that He was being watched by the Scribes and Pharisees; and, depending on how many detective novels you've read, you might consider the possibility that this whole event is a set-up: that the Scribes and Pharisees themselves invited our Lord to speak in a synagogue, and the crippled man was a plant. More to the point, notice that Saint Luke doesn't just describe the events, but he tells us what people are thinking,—he's the only one of the Evangelists who does this—in this case, that the Scribes and Pharisees were watching our Lord to see if he would perform the cure. How does Luke know what people are thinking? Well, consider who Luke is.
     Of all the evangelists and apostles, he was the most educated, not only trained thoroughly in the Greek classics, but also in medicine, and it comes out in his narrative in unique ways: he's keen and observant, always attuned to any kind of human suffering, always ready to forgive but very intolerant of quacks and hypocrites; and, of all the Gospels, his frequently gives us the psychological context of the events he's describing to us, often telling us how people reacted to things Jesus said and did rather than just relating the events, even sometimes speculating—as he does in today's Gospel lesson—about their inward dispositions; hence, he tells us not only that the Scribes and Pharisees were observing our Lord, but that they were doing so to look for something in particular, and for a particular reason: to gather evidence to use against Him. Now, how could Luke possibly know what reasoning was going on in the mind of a Pharisee? Because he's a psychiatrist. He knows what makes people tick.
     But there's something even more curious here. Listen to this verse again and see if you can pick it up: "The scribes and the Pharisees watched him closely to see if he would cure on the sabbath so that they might discover a reason to accuse him" (6: 7 NABRE). Do you notice what's strange here? The whole episode centers around the question of whether performing a miraculous cure on the Sabbath Day violates the Law of Moses; but, in order for the Scribes and Pharisees to even have this concern, that have to have already admitted to themselves that our Blessed Lord is able to perform miraculous cures.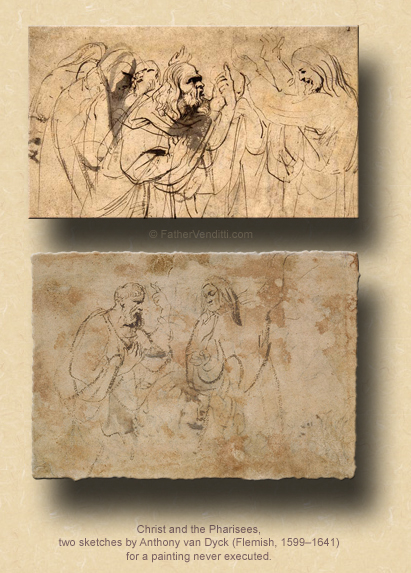 While they may not be to the point where they recognize our Lord as God, they've betrayed the fact that they recognize some intimate connection between our Lord and the Divine. And yet, in spite of that, they're still looking for something they can use to denounce Him. That is what we call denial, and on a grand scale. They may not yet know that Jesus is God, but they certainly know He comes from God, and they still want to do away with Him. Why? Because if they were ever to reconcile their outward perceptions with what they already know in the back of their minds but have successfully suppressed, it would mean their whole world had changed; they would have to defer to our Lord, and would no longer be in charge.
     I suspect, sometimes, that this is what often keeps us from making the changes that our own examinations of conscience might reveal to us. It's not so much that we aren't aware of our sins, but we kind of pretend we are because, consciously or subconsciously, we don't want to make the change. It's reminiscent of Saint Augustine's famous admission in the Confessions, when describing his struggles with his own promiscuity, and he recalls praying to God saying, "Lord, give me chastity … but not yet."
     Some Fathers of the Church saw significance in our Lord's command to the afflicted man: "Stretch our your hand," deriving from these words a veiled command by our Lord to all of us to practice the virtues. I'll leave you with Saint Ambrose's comments:
Stretch our your hand often by doing favors for your neighbor, by protecting from harm one who suffers under the weight of calumny; stretch out your hand to the poor man who begs from you; stretch out your hand to the Lord, asking pardon for your sins. This is how you stretch out your hand, and this is how you will be cured (Commentary on St. Luke's Gospel).
* At Nicomedia, Gorgonius, an officer of Diocletian's house-hold, converted many servants of the imperial court. His cruel master condemned him and his companions to the most atrocious death in the year 302.

** In the extraordinary form, on ferias outside privileged seasons, the lessons from the previous Sunday are repeated.