God Owns the World, but He Rents It Out to the Brave.
2 Corinthians 11:31-12:9;
Luke 6:31-36.
The Nineteenth Sunday after Pentecost.
Our Venerable Father Cyriacus the Anchorite.
Return to ByzantineCatholicPriest.com.
7:03 PM 9/29/2013 — Last year when these Scripture lessons occurred we examined St. Paul's angry correction of the Corinthians, and the year before that we looked at the familiar Golden Rule as presented by our Lord in the Gospel; but, this Tuesday we will celebrate the feast of the Protection of the Theotokos, and I thought it might make a fitting opportunity to continue and build upon the reflections on the Mother of God we began three weeks ago on the feast of her Nativity.
     The feast of the Protection commemorates an appearance of the Mother of God near Constantinople in the tenth century, during the siege of Constantinople by the Vandals. During services in the Church of Our Lady of the Waves in Blachernes, which was a seaside monastery on the outskirts of Constantinople, St. Andrew and his disciple, St. Epiphanius, saw the Mother of God approaching the ambo. She was supported by many saints. Here she knelt in prayer before the Holy Table, her face bathed in tears. After praying, she took off her veil and extended it over the people as a sign of her protection. In the popular icon of this event—which dominates the ceiling of our church here at St. Michael—the Theotokos is seen standing above the faithful, her arms outstretched in prayer and draped with a veil. St. Andrew and St. Epiphanius are shown along with many other saints.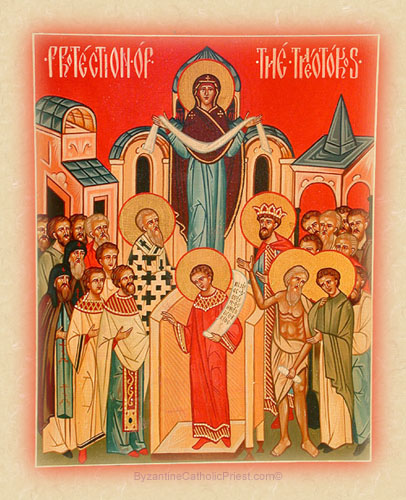 In the center of the church stands a young man, clothed in a deacon's sticharion, and holding in his left hand an open scroll with the text of the Christmas Kontakion written on it. He is St. Romanos the Melodist, the famous hymnographer whose feast is also celebrated on October 1st, and who is responsible for having composed many of the troparia and kontakia that we sing in church. Pope-emeritus Benedict devoted one of his weekly audience addresses to the life and work of St. Romanos; and you may recall that I had reproduced that speech for you in your bulletin a few years ago. That's about all I can tell you about the feast, but it makes for a good opportunity to reflect on the vocation of the Mother of God.
     Usually, when we hear the word "vocation," it causes us to think of vocations to the Holy Priesthood, how badly we need more of them, how we must continually pray for them;—which I'm sure we do—but, we don't often use the word in application to ourselves. But, as Christians, we must, each one of us, come to terms with the fact that we do have a vocation; that we are, each and every one of us, called by God to do something for him. It, of course, will be different for each of us: some of us have been called to bring children into the world and raise them in the faith, some of us have been called to the holy priesthood or the monastic life, some of us—many more than would like to admit it—have been called to assist in the salvation of souls and the sanctification of the world through some form of personal suffering, whether physical or emotional. And in this way we have something intimately in common with she who is our spiritual Mother, the ever-virgin Mother of God.
     Now, it's true, there are some crucial differences. We, after all, were not granted that special gift to be free from the sin of our first parents as Mary was;—we were not conceived immaculately—but, keep in mind that Mary received that particular gift only because it was necessary in order for her to fulfill the vocation that the Father had chosen for her. So, in this sense, God has done for us what he did for Mary, for he does give us the graces we need to do what he has called us to do. The Father made Mary free from sin because she needed to be free from sin in order to bring God into the World as a man. And although we try time and again to deny it, we have to come to terms with the fact that God has given us the grace to do what it is he calls us to do. So, on any particular day, I might find the exercise of my priestly duties burdensome and joyless and unappreciated. But, try as I might, I can't escape the fact that God has and does give me the grace to do what he has called me to do. That is what the sacrament of Ordination does.
     And this is true of everyone of us, because every one of us has a vocation to fulfill before the Lord. So, you who are married may very well get tired of living with the same person day in and day out, because the years have worn away your patience and exposed to each other your faults. But, like all sacraments, the Holy Mystery of Matrimony bestows grace; and believing that the grace is there to do what needs to be done before God is a basic teaching of our faith. You should remember this because we've discussed many times. We call it the Dogma of Sufficient Grace. Christ lays no burden upon us without the grace to carry it through; maybe not with ease, maybe not without struggle, maybe not in the way we would personally prefer; but it is never impossible.
     And we should, and must, take consolation in the fact that the Theotokos, even though free from sin, faced this same challenge. For the Gospel is quite clear: when she heard the angel's greeting she was "troubled in spirit." "How can this be since I have not known man?" Do you think that Mary was unmindful of the fact that she was being asked to assume a role which would cause great misunderstanding to her family and her future husband? Thanks be to God that he disposed St. Joseph in a dream to accept Mary's pregnancy, but she had to have wondered what his reaction might be. Even though free from sin, she could not predict the future; and even while having a perfect faith in the mission of her divine Son, this didn't stop her from grieving at the foot of the cross, or as her Son's lifeless body was laid in the tomb. The gift of sufficient grace is not a guarantee that our lives will be problem free. Our Lord said that himself in our Gospel two week's ago following on the Exaltation of the Cross: "If a man would be my disciple, let him take up his cross and follow me." Those are not orders for the fainthearted. Sometimes life requires a leap of faith, like the one shown by St. Peter in last week's Gospel: "We've been fishing all night and have caught nothing; but because you say so, I will throw out the nets." As the Spanish proverb says: "God owns the world, but he rents it out to the brave."
     Meditating on Mary's vocation, the Holy Doctor of the Church, St. Bernard of Clairvaux, said, "Heaven and earth await your 'Yes,' O most pure Virgin." But so do they await our "yes." "Yes" was Mary's answer, and so must it be ours. It does not guarantee a life without struggle, but it does promise a life which ends in heaven. Let us ask our Lord today, as we prepare to celebrate this great feast of His Mother, for a great and true desire to know God's will, and the strength of heart to always say "yes" to it. And in the midst of the trials and crosses that God allows to come our way, let us take our rest and consolation in the grace that the Father has promised us; and call out to God in the words of St. Ignatius: "Give me only your love and grace, O Lord; these are enough for me."