Ever Have One of Those Days?
---
The Nineteenth Sunday of Ordinary Time.

Lessons from the secondary dominica, according to the ordinary form of the Roman Rite:

• I Kings 19: 4-6.
• Psalm 32: 2-9.
• Ephesians 4: 30—5: 2.
• John 6: 41-51.
---
The Eleventh Sunday after Pentecost.

Lessons from the dominica, according to the extraordinary form of the Roman Rite:

• I Corinthians 15: 1-10.
• Psalm 27: 7, 1.
• Mark 7: 31-37.
---
The Eleventh Sunday after Pentecost; a Postfestive Day of the Transfiguration; and, the Feast of the Holy Apostle Matthias.

First & third lessons from the pentecostarion, second & fourth lessons from the menaion, according to the Ruthenian recension of the Byzantine Rite:*

• I Corinthians 9: 2-12.
• Acts 1: 12-17, 21-26.
• Matthew 18: 23-35.
• Luke 9: 1-6.
FatherVenditti.com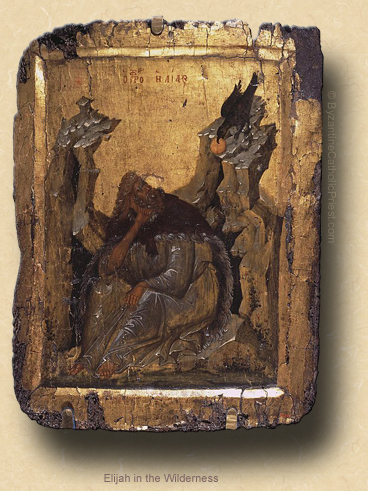 8:25 AM 8/9/2015 — I typically do not get personal in my homilies because a homily at Mass should be about our Lord, not about the priest; but, I make an exception today because the events of yesterday here at the Shrine made me feel exactly like the prophet Elijah in our lesson. On paper we had one group of ten buses scheduled to come and have a Mass at ten o'clock, and another group who had agreed to simply to come and participate in that Mass, obviously unaware that the Mass of the first group was in a language they didn't know, neither of which were supposed to interfere with our own regular Shrine Mass at noon. Well, the first group showed up and presented me with an entire day's schedule that was nothing like what I was told, concluding with a Mass at four; the other group came along later carting their own statue of Our Lady of Fatima, demanding their own Mass at noon followed by Benediction. Then two more groups showed up I knew nothing about, each claiming that they had made reservations for their own events. Needless to say, nobody got what they wanted, as I had to rearrange things considerably.
     So, the day finally ended late in the evening with everyone mad at me and me mad at everyone. And just as I finally think it's all over and swing by the Holy House to lock it up for the night, I'm ambushed by some poor soul to who had visited here many years ago, and who now wanted to lecture me on how upset she was that the grounds were not kept up as nicely as they were when she had been here before, as if I have anything to do with grounds keeping.
     By the time I finally got home, I had to sit down and come up with a homily for today, which is why you're getting this depressing story now. And it's at this point that I was confronted with today's first lesson from the First Book of Kings:
Elijah went a day's journey into the desert, until he came to a broom tree and sat beneath it. He prayed for death saying, "This is enough, O Lord! Take my life, for I am no better than my fathers" (19: 4 NABRE).
     In last week's Gospel lesson, our Lord told the crowd following Him, "I am the bread of life; whoever comes to me will never hunger, and whoever believes in me will never thirst" (John 6: 35 NABRE). The episode followed right on the heals of the lesson the week before, wherein our Lord had fed five thousand of them by means of a great miracle that prefigured the Blessed Eucharist; and, if you were here last week, you may remember that Saint Augustine surmised that they had followed our Lord simply because they had gotten free food and wanted some more, not because they were particularly devoted to Him or understood the meaning of the miracle that had fed them.
     Fleeing from Jezabel, Elijah journeys to Horeb, the Holy Mountain of God. During the long and difficult journey, he feels so tired and worn out that he prays for death. He collapses on the ground and falls asleep, but an angel of the Lord wakens him and offers him bread, saying,
"Get up and eat, else the journey will be too long for you!" He got up, ate, and drank; then strengthened by that food, he walked forty days and forty nights to the mountain of God, Horeb (vs. 7-8).
     How often, in our daily lives, do we feel like the Prophet Elijah? How often do we find ourselves being pulled at from every side: everyone around us wanting something from us, everyone convinced that what they think they need is the most important thing that we have to worry about? It happens most often in our family relationships, but it can happen in our work, among our friends, in almost any situation. There isn't a person here who hasn't felt that way at times, pursued by Jazebels who don't even know they're Jezabels, each one wanting something different from us, each one totally unaware of everything pulling at us from all sides, demanding our time, our understanding, our attention;
each one completely convinced that what he or she wants from us deserves our full attention; and, each one unaware—nor would it matter to them if they were—of the effect it has on us. Anyone who has children knows this feeling, as does anyone who cares for elderly parents, as does anyone who has been a parish priest, or even the chaplain at a shrine. We all feel caught in the middle at times.
     The holy mountain which was the prophet's destination is an image of heaven. The forty days of travel it took Elijah to get there represents our own journey through life, during which we, too, encounter temptations, difficulties and fatigue. Sometimes we find ourselves tempted against the virtues of Faith and Hope. And, just as the angel did for Elijah, so does Holy Mother Church invite us to nourish ourselves with bread; but, not just the ordinary bread that was offered Elijah. We are offered the "bread" that is Christ, Himself. In that "bread," we are given not just strength to walk, but strength to live, and continue our journey to heaven.
I myself am the living bread that has come down from heaven. If anyone eats of this bread, he shall live for ever. And now, what is this bread which I am to give? It is my flesh, given for the life of the world (John 6: 51-52 Knox).
     I like the way Monsignor Knox translates that last verse from today's Gospel lesson, because, following Saint Jerome's Vulgate, he takes what the Missal—and all other translations—indicates as a statement, and puts it in the form of a question: … et panis quem ego dabo[?] caro mea est pro mundi vita—"… what is this bread which I am to give? It is my flesh, given for the life of the world" (v. 52). Our Lord answers His own question, it's true; but he asks it first, giving each of us the opportunity to make an act of faith.
     Saint Alphonsus Liguori was once asked what one ought to do when making a visit to the Blessed Sacrament, and he answered saying,
What shall we do, you ask, in the presence of the Blessed Sacrament? … What does a poor man do in the presence of a rich man? A sick man in the presence of a doctor? One who is thirsty at the sight of a crystal-clear fountain? (Visits to the Blessed Sacrament, Introduction, III).
And to that we can easily add another analogy: what does a hungry man do in the presence of bread? Only the bread that is being placed before us at Holy Mass isn't bread, it only looks like it. It's our Lord in disguise. He offers Himself as food, not food to fill the belly, but food to fill the empty heart, food to fill the soul.
     There is no spiritual cure for the pressure the circumstances of life force on us; there are no prayers or novenas we can say to make them go away, there is no penance or sacrifice we can make to change the people around us, there is no corporal or spiritual work of mercy that makes the aches and pains of life go away. "I've lived a good life. Why has God let this happen to me?" That is the statement of someone who only thinks he believes. But there is a cure for our lack of faith and our lack of hope, because those are both hungers, and the only cure for hunger is to eat.
     "I myself am the living bread that has come down from heaven. If anyone eats of this bread, he shall live for ever. And now, what is this bread which I am to give? It is my flesh, given for the life of the world." Today our Lord reminds us—perhaps more forcefully than in any other passage of the Gospel—that we need to receive Him in Holy Communion, and we need to receive Him worthily, after a good confession of all our sins; because, only then will the Blessed Eucharist do what our Lord promised: it will foster and nourish the life of grace born in us through Baptism, it will enable us to overcome temptations, it will give us the strength we need to pick ourselves up and continue the journey. How does it do this? By making us one with Christ Jesus. Saint Cyril of Jerusalem, as early as the fourth century, said, "When two pieces of wax are put into the fire, they melt and become as a single thing. Something similar occurs when we participate in the Body of Christ and in his Precious Blood" (Commentary on John, 10: 2).
     In today's Mass let us worship our Blessed Lord in his Body and Blood with a fervor we may not have mustered before; and, if we are worthy to receive Him, let us do so with full faith and confidence. And if it should be that we are not worthy to receive Him this day, let's resolve to make ourselves worthy because, as our Lord said, "If anyone eats of this bread, he shall live for ever."
* The first & third lessons are for the Sunday, the second & fourth for the Apostle. The postfestive period of the Transfiguration, while referenced in some of the chants for today's liturgy, is not reflected in the lessons.