Be not afraid.
1 Cor. 4:9-16;
Matt. 17:14-23.
The Tenth Sunday after Pentecost.
A Prefestive Day of the Transfiguration.
The Holy Martyr Eusignius.
Return to ByzantineCatholicPriest.com.
12:02 PM 8/5/2012 — Even though I haven't preached on all of them, taking the occasional detour to talk about the Apostolic reading or a feast, the Gospel lessons for the past three or four weeks have presented to us some of our Lord's cures and miracles: the paralytic in Galilee, the two blind men and the mute man possessed by a demon, the feeding of the five thousand on the hillside, last week's Gospel in which the Lord walks on water and calms the sea. We will get another miracle tomorrow with the Transfiguration of Our Lord on Mt. Tabor. These Gospel lessons offer us clues that can be very helpful for our interior life: the reality and purpose of suffering, the need for trust in God, the need to cultivate the virtue of hope and abandonment to God's holy will. And last week, when we read about our Lord walking on the water, we noticed how remarkable it was that, having witnessed all these other miracles and signs, the disciples still were so amazed and so disbelieving at what they saw on the water. During all of these previous events, the truth of our Lord's divinity was practically forced down the disciples' throats; and yet, when he walks on the water, they throw up their arms in absolute amazement, as if they had no idea he could do this. Why? Because they suffered from the same fault from which we suffer: the inability to deal with the unexpected, the desire to have our lives fit neatly into the program we have charted for ourselves; and when a square peg comes along that doesn't fit into the round hole we've carved into our lives, we pretend it isn't there. Spiritual maturity means, more than anything else, the ability to work with the hand we're dealt, not lament that we would like a better one.
     Next week, of course, it all changes, and we leave the miracles behind and launch into the moral lessons of our Lord, starting with the parable of the wicked and slothful servant. But before our Lord tells us how wicked and slothful we are, he wants to make sure we've gotten the point of these miracles, which is why he gives us one more in today's Gospel lesson.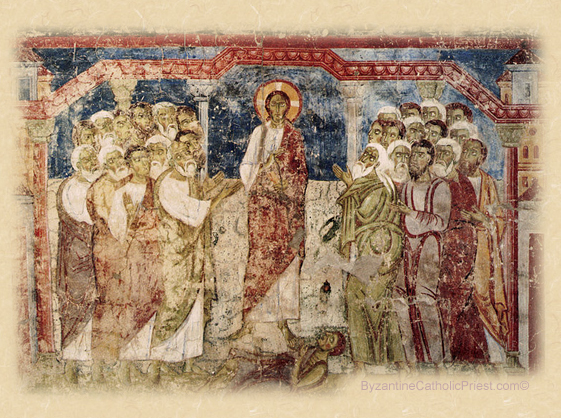 And it's a miracle which brings us full circle; for, just as we started out four weeks ago with the cure of a possessed man, so we end in the same way. This time, a possessed boy is brought by his father to the disciples, and we get to see if the disciples learned anything in the last four weeks; and, apparently they didn't because they couldn't help the boy, which somehow doesn't surprise us. So, they have to bring him to Jesus, and—zim, bam, boom—he's cured. But they do have the wisdom to ask him why they couldn't do it; and, in his answer to them, our Lord reveals the secret to the whole package: "This kind of demon," he says, "can only be cast out by prayer and fasting." And just to make sure they get the point, he predicts his own death by saying, "The Son of Man is about to be betrayed into the hands of men, and they will kill him."
     What he's talking about, of course, is the Cross. At the beginning of this month occurred a little commemoration called The Procession of the Venerable and Life-giving Cross. We did not celebrate it this year, but we did in years past. The services on that day highlight some of the deep meanings that the Cross has for us as Christians, and what graces can be ours if only we are willing to accept the Cross in our lives. And although we try time and again to deny it, we have to come to terms with the fact that God has given us the grace to do what it is he calls us to do. So, on any particular day, I might find the exercise of my priestly duties burdensome and joyless, and I might wake up in the morning and say to myself, "Oh, God, not another day of this!" But, try as I might, I can't escape the fact that God has and does give me the graces to do what he has called me to do. If I choose to wallow in my own indifference and feel sorry for myself because I don't want to do what I'm supposed to do, that's not a lack on God's part, that's a deficiency in me.
     And this is true of everyone of us. So, you who are married may very well get tired of the tedium and routine that married life can sometimes become, and you may have to struggle to act with charity toward your spouse because the years have exposed to you his or her defects; but, believing that the grace is there to do what needs to be done before God is a basic teaching of our faith. We call it the Dogma of Sufficient Grace. Christ lays no burden upon us without the grace to carry it through; maybe not with ease, maybe not without struggle, maybe not in the way we would personally prefer, but it is never impossible.
     That's why Mary's life, whose Holy Dormintion we will celebrate soon enough, and for which we are—or should be—preparing through some form of prayer and penance, is the perfect example for all of us. Just as it was for her, the circumstances of our lives are often not choices we make for ourselves, and we may very well doubt our ability to be faithful in the difficulties they present. But as our Lord said in St. John, "You have not chosen me; I have chosen you"; and, because he has chosen us, he will not abandon us. We can pretend that he has, because we don't want to admit to our failures. But that's only because we forget that the gift of sufficient grace is not a guarantee that our lives will be problem free. Our Lord said that himself: "If you would be my disciple, you must deny yourself, take up your cross everyday, and follow me."
     Now, those words may not sound particularly pleasant to us, but what the angel said to Mary at her Annunciation, he has also said to each one of us: he said it to me on the day I was ordained, he said it to you on the day you were married, he said it to each one of us on the day of our baptism: "Be not afraid." That one simple sentence, spoken by God through all eternity, sums up the entire Gospel on the subject of grace. But so often we are afraid. We're afraid of obligation. We're afraid of sacrifice. And to overcome this fear we have to accept what we so often don't want to accept: that God has not abandoned us. We must respond as Mary did: "Be it done unto me according to Thy word." Saying that did not mean that Mary understood it all, and I think it is unreasonable to assume that she did, for she did not have clairvoyance. What she did have was faith. Faith enough to say, "I am not afraid." Just as we must say every single day: I am not afraid of following the Lord. I am not afraid of responsibility and obligation. I am not afraid of living with a sudden and unexpected loss. I am not afraid of marriage. I am not afraid of the priesthood. I am not afraid of the Gospel. I am not afraid of the cross. I am not afraid of things not going my way. I am not afraid of doing what is right, no matter what the consequences. I am not afraid of life.
And Jesus rebuked the demon, and he came out of him; and the boy was cured from that very hour. Then the disciples came to Jesus privately and said, "Why could we not cast him out?" And Jesus said to them, "Because of your unbelief; for assuredly, I say to you, if you had the faith of a mustard seed, you could move mountains, and nothing would be impossible for you."
Father Michael Venditti