Keep Your Eyes on the Road.
---
The Memorial of Saint Monica.

Lessons from the primary feria, according to the ordinary form of the Roman Rite:

• I Thessalonians 3: 7-13.
• Psalm 90: 3-5, 12-14, 17.
• Matthew 24: 42-51.
---
The Third Class Feast of Saint Joseph Calasanctius, Confessor.

Lessons from the proper, according to the extraordinary form of the Roman Rite:

• Wisdom 10: 10-14.
• Psalm 36: 30-31.
• Matthew 18: 1-5.
---
The Thirteenth Thursday after Pentecost; and, the Feast of Our Venerable Father Pimen.

Lessons from the pentecostarion, according to the Ruthenian recension of the Byzantine Rite:

• Galatians 1: 1-10, 20—2: 5.
• Mark 5: 1-20.
FatherVenditti.com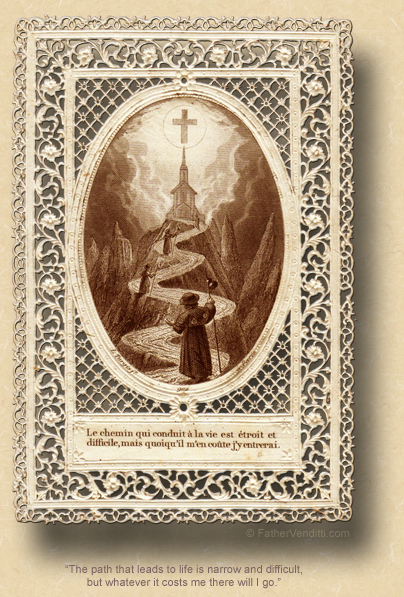 9:48 AM 8/27/2015 — The imagery of the lessons of today's Mass are simple enough: our Lord exhorts us to remain awake, watchful and on guard against the enemy who never sleeps. The military metaphor is continued by the Blessed Apostle Paul, as he compares the watchfulness of the Christian to the guard-duty of the well-armed sentry who cannot allow himself to be taken by surprise. In fact, Paul often speaks about the Christian life as one of being like a soldier on active service.
     The whole point of these lessons is that we can't allow ourselves to be distracted from the enterprise of our eternal salvation; or, as I've put it to you many times, our one reason for being on this earth is to work out our salvation. Everything else is just window dressing. It's easy enough to forget when even the Church, it seems, allows herself to become distracted with things that, in past ages, the spiritual doctors would warn us pertain only tangentially to eternal realities: concern for the poor, concern for the environment, the dabbling in economic theory, making pronouncements about migrants and immigrants and the social structure of society. I'm not suggesting that these things aren't important or have no relationship to our quest for heaven; I am suggesting that they are peripherals. Like all secular concerns, our involvement in them can serve only as a tool to assisting us in working out our salvation; but, ultimately, on our death beds, they won't matter in and of themselves, but only inasmuch as they guided and motivated us to make our souls ready for judgment.
     Msgr. Knox, who had a knack for putting things in a plain way, during a retreat for lay people, once likened the proper attitude of the Christian to the prudent servant of our Lord's parable who has been placed in charge of his master's estate and who, while awaiting the master's return, spends his time, as Msgr. Knox puts it …
… doing a hundred little jobs against time; always a room to be dusted here, a floor to be polished there, a fire to be made up in this room or that, so that the house shall look a hundred per cent welcoming when he steps inside. Each of us has got a job to do; each of us should be inspired to do it better, especially if it looks as if we hadn't got much time to do it in (R. A. Knox, A Retreat for Lay People, pp. 45-46).
     Our Holy Father will be visiting our country and, depending on your point or view, we may find ourselves vexed by questions and concerns. Will he speak to us of immigration when Planned Parenthood is selling body parts and whole babies? Will he lecture us on the environment when two percent of our population which identifies itself as gay attempts to coerce laws which require us to regard their perversion as normal? Will he admonish the most generous people in the history of the world on the need to care for the poor as our own government makes war against our way of life? But we have to do what we can to put these thoughts out of our heads because, as I said, they don't pertain directly to our eternal salvation, and can only distract us.
     The early Christians fulfilled our Lord's new commandment to love one another so well that the pagans were able to recognize them simply by the love they had for one another. Their charity was expressed in their concern for each other's needs and the help they gave one another to remain steadfast in the faith, even in the face of martyrdom. They had what that Father of the Church, Tertullian, called the statio: a military term meaning "being on guard."
     Let us always cultivate the statio, always be on watch, so that when the Master returns home, the house will not be in a shambles because we allowed ourselves to be distracted by things that simply didn't matter.