Grace Comes Only to Those Humble Enough to Know They Need It.
Old Testament lesson & Psalm from cycle II of the feria, Gospel lesson from the Proper, according to the Ordinary Form of the Roman Rite:

Micah 7: 14-15, 18-20.
Psalm 85: 2-8.
John 20: 1-2, 11-18.
The Memorial of Saint Mary Magdalene.
The Seventeenth Tuesday of Ordinary Time.
Return to ByzantineCatholicPriest.com.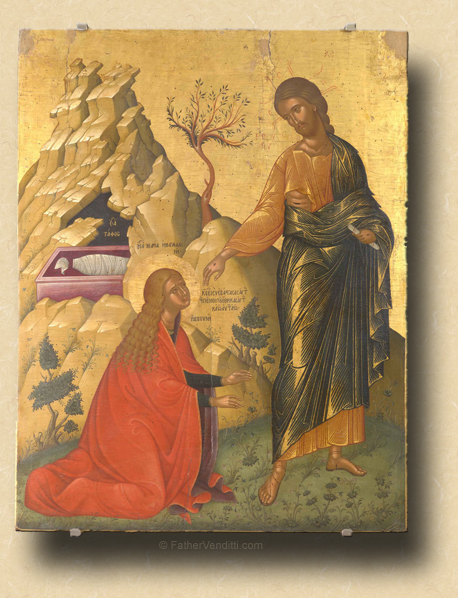 11:30 PM 7/22/2014 — It's not uncommon—and you have heard it, I'm sure—to hear a comedian introduce a stand-up routine by pointing out that he or she was raised as a Catholic, and therefore grew up with a sense of guilt. This, then, becomes the premise of a series of jokes—sometimes funny, mostly not—which usually ends up holding the Church and the Faith up to ridicule. The reason these jokes work is because of the wide-spread assumption, foisted on us by modern pop-psychology, that guilt is something bad, and that feeling guilty is, somehow, psychologically unhealthy.
     Not only is there nothing wrong with guilt—not only is it not unhealthy to feel guilty when one has sinned—but, in the context of our relationship with God, it is absolutely essential. The premise that guilt is unhealthy is predicated on the presumption that there's no such thing as sin, but there is. The saint whose memorial we celebrate today was one of the most important and outstanding disciples of our Lord, and would not have become such had she not felt guilt. Guilt, and the feelings of remorse that go with it, is responsible for the lives of the some of the greatest saints in the history of the Church, many of them martyrs. Guilt is the seedbed of conversion; without guilt we do not repent of our sins, and without repentance we don't grow in Grace.
     Non-Catholics and Catholics poorly formed in their Faith see guilt as an enemy of happiness, but exactly the opposite is true. Learning to recognize our sins and confessing them breaks down the walls that impede our spiritual growth. The more we become conscious of sin in our lives, the more we become receptive to Grace, and the closer we grow to our Lord and to that final end which is the reason for our life on this earth. We examine our consciences regularly and confess our sins frequently because it keeps our souls cleansed in anticipation of death, but also because, by routinely stripping away the vestiges of even the smallest venial sins, the pathways of Grace are plowed clear of whatever would hinder our growth in holiness. What results is a kind of spiral upward into union with God: the more we reflect on our sins and confess them, the more we become sensitive to the presence of sin in our lives, and become aware of faults that we didn't even recognize as faults before. This is how ordinary people grow in Grace and become great saints.
     Shun the notion of guilt and sin, and the process is reversed: we reserve confession only for the big mortal sins, we don't examine our consciences regularly, and we become desensitized to venial faults, with the result that we begin to make excuses even for mortal sins. Confession, then, becomes a burden that we endure when required at Easter time, and growth in Grace is practically impossible. We tumble into a downward spiral, beset by temptation at every turn, receiving little if any Grace from our reception of Holy Communion, and coming to view Christian living as a struggle rather than a joy.
     The Gospel lesson for this feast of Saint Mary Magdalene does not present to us the story of her conversion and repentance, as you might expect; instead, it shows us the fruits of it. Having embraced her guilt, motivated by it to change her life and devote her life to Christ, she was given a Grace that was denied even to the Apostles: she was the first to see the Risen Lord. There is a lesson for us in that: Grace comes only to those humble enough to know they need it.