Understanding the Gift of Fear of the Lord.
II Kings 2:1,6-14.
Psalm 31:20-21,24.
Matthew 6:1-6,16-18.
The Eleventh Wednesday of Ordinary Time.
Readings from Cycle II of the feria, according to the Ordinary Form of the Roman Rite.
Return to ByzantineCatholicPriest.com.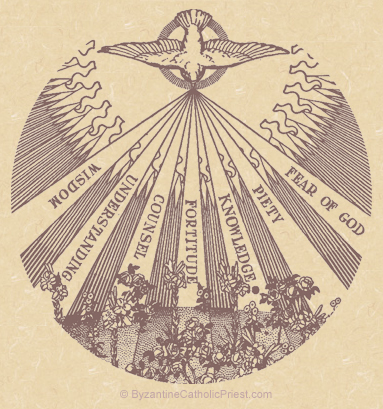 2:59 PM 6/18/2014 — Today's first reading, from the Second Book of Kings, recounts how the prophet Elijah was taken up to heaven on a fiery chariot. It brings back fond memories for me, since, in the Byzantine Church in which I served for many years, it was on the feast of the prophet Elijah that we would have a special service after Divine Liturgy to bless everyone's automobiles, based on the fact that Elijah was transported to heaven in this unconventional manner.
     But what I want to draw to your attention today is a verse from our Responsorial Psalm, taken from Psalm 31: "How great is the goodness, O Lord, which you have in store for those who fear you." I always prefer to read the Scriptures from Msgr. Knox's excellent translation, which reads, "What treasures of loving-kindness, Lord, dost thou store up for the men who fear thee, rewarding their confidence for all the world to see!" (Psalm 31:20).
     It's not a coincidence that we read this Psalm during this time following Pentecost, since the fear of the Lord is one of the seven gifts of the Holy Spirit, but it's a very misunderstood gift. Nor is it coincidental that our Holy Father, Pope Francis, has been devoting his Wednesday General Audience addresses to the gifts of the Holy Spirit, with last Wednesday's being the last of them on the fear of the Lord; and, I would like to repeat for you part of what he said:
It does not mean being afraid of God: we know well that God is Father, that he loves us and wants our salvation, and he always forgives, always; thus, there is no reason to be scared of him! Fear of the Lord, instead, is the gift of the Holy Spirit through whom we are reminded of how small we are before God and of his love and that our good lies in humble, respectful and trusting self-abandonment into his hands. This is fear of the Lord: abandonment in the goodness of our Father who loves us so much. … When we are pervaded by fear of the Lord, then we are led to follow the Lord with humility, docility and obedience. This, however, is not an attitude of resignation, passivity or regret, but one of the wonder and joy of being a child who knows he is served and loved by the Father. Fear of the Lord, therefore, does not make of us Christians who are shy and submissive, but stirs in us courage and strength! It is a gift that makes of us Christians who are convinced, enthusiastic, who aren't submissive to the Lord out of fear but because we are moved and conquered by his love! To be conquered by the love of God! This is a beautiful thing. To allow ourselves to be conquered by this love of a father, who loves us so, loves us with all his heart (Pope Francis, General Audience, St. Peter's Square, Wednesday, 11 June 2014).