Activism the Enemy of Salvation.
---
Holy Monday.

Lessons from the feria, according to the ordinary form of the Roman Rite:

• Isaiah 42: 1-7.
• Psalm 27: 1-3, 13-14.
• John 12: 1-11.
---
Lessons from the feria, according to the extraordinary form of the Roman Rite:

• Isaiah 50: 5-10.
• [Gradual] Psalm 34: 23, 3.
• [Tract] Psalm 102: 10.
• John 12: 1-9.
FatherVenditti.com
6:27 AM 3/26/2018 —
True to my purpose, I, the Lord, have summoned thee, taking thee by the hand and protecting thee, to make, through thee, a covenant with my own people, to shed, through thee, light over the Gentiles: to give sight to blinded eyes, to set the prisoner free from his captivity, from the dungeon where he lies in darkness (Isaiah 42: 1-7 Knox).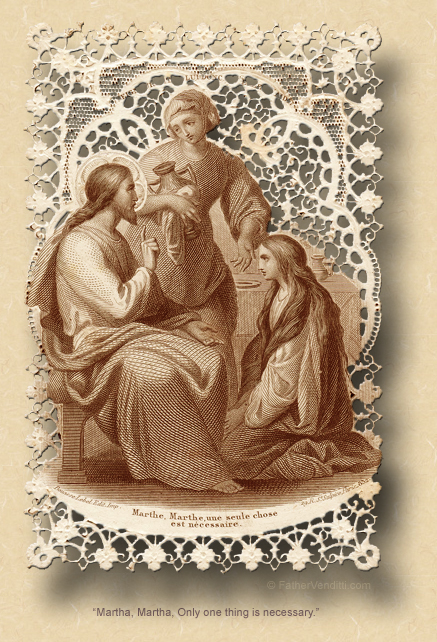 That's Msgr. Knox's translation of the last verses of today first lesson from Isaiah; and, doesn't it express so beautifully Our Blessed Lord as he marches, with resolute purpose, toward His passion? So intent is He on freeing us from the prison of our sins, which presupposes, of course, that we want to be set free.
     Yesterday, on Palm Sunday, we read the Passion this year from Mark's Gospel, which begins with the anointing of Our Lord in the home of Simon the leper by a woman who is not named. We don't know for sure, of course, but it's possible that today's Gospel lesson from Saint John is describing the same event, with all the correct names and places, Saint Mark yesterday having given us an episode of "Dragnet," with the names changed to protect the innocent.
     No matter. In today's lesson the complaint about the expense is made by Judas, and the anointing is made by Mary, the sister of Lazarus, whom Our Lord had raised from the dead, the very same of whom our Lord declared had "chosen the better part," content to sit at Our Lord's feet and listen rather than serve at table.
     The substance of our Gospel lesson is simple enough, and there's no need to elaborate on it. As we enter into Holy Week I draw your attention to only one point: the mention in the last two verses of our Gospel lesson of the fact that the Jews sought not only to kill Our Blessed Lord, but also Lazarus, because his very existence testified to Our Lord's Divinity. Isn't it amazing how important it is to them to not recognize Our Blessed Lord as God, in spite of how obvious it is?
     If Jesus was not God, if He had merely been a social teacher, Lazarus would never have been raised, and Mary's choice, far from being "the better part," would have been a waste of time.
     As we enter into Holy Week, my prayer for each of us is that we can set aside the concerns and worries of life, at least for a time, and so be consoled—even if only temporarily—that Our Blessed Lord took this Passion upon Himself for the forgiveness of our sins.