It's Not the Years, It's the Mileage.
---
The Fourth Monday of Lent.

Lessons from the feria, according to the ordinary form of the Roman Rite:

• Isaiah 65: 17-21.
• Psalm 30: 2, 4-6, 11-13.
• John 4: 43-54.
---
Lessons from the feria, according to the extraordinary form of the Roman Rite:

• III Kings 3: 16-28.
• [Gradual]Psalm 30: 3.
• [Tract] Psalm 102: 10.
• John 2: 13-25.
FatherVenditti.com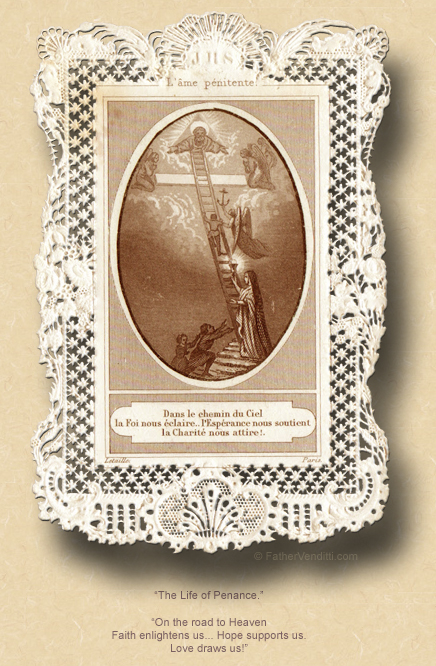 6:37 AM 3/12/2018 — "The things of the past shall not be remembered or come to mind. Instead, there shall always be rejoicing and happiness…." (Isaiah 65: 17-18 RM3), from our first lesson from Isaiah. And isn't that what we all hope for our Lenten observance: to conquer all of our habitual sins and put them to rest forever? It's a dream that we have, not easily achieved, but we work for it, pray for it, hope for it.
     I'm particularly attracted to a verse from today's psalm: "At nightfall, weeping enters in, but with the dawn, rejoicing" (RM3). As usual, I prefer Msgr. Knox's translation: "…sorrow is but the guest of a night, and joy comes in the morning" (Psalm 30: 6 Knox). Isn't it true? It's while lying awake at night that so many regrets come to mind, so many fears about the state of our soul; then, in the morning we rouse ourselves and muster the energy to tackle the day ahead. It probably depends on how old you are and how much you've experienced over the years.
     In today's Gospel lesson, our Lord returns home to his adopted home-town after a difficult journey through Samaria, and is welcomed home. He gets a request for a cure. The one making the request expects Him to go there, but He doesn't; instead, He just declares the cure from "long-distance." But what I want you to take away from today's Scripture lessons is that, while you may not be acutely aware of our Blessed Lord's presence in your life—or his response to your prayers—that doesn't mean He's not involved. Our Lord works behind the scenes, not on command. Your prayers to our Lord will be answered. Maybe not in a way that you expected, and maybe not in a way that you will even notice … but they will be answered, regardless of whether you are able to recognize the answer.