"Snakes! Why Did It Have to Be Snakes?" (Indiana Jones).
---
The Fourth Sunday of Lent, known as Lætáre Sunday.

Lessons from the feria, according to the ordinary form of the Roman Rite:

• II Chronicles 36: 14-16, 19-23.
• Psalm 137: 1-6.
• Ephesians 2: 4-10.
• John 3: 14-21.
---
Lessons from the feria, according to the extraordinary form of the Roman Rite:

• Galatians 4: 22-31.
• [Gradual] Psalm 121: 1, 7.
• [Tract] Psalm 124: 1-2.
• John 6: 1-15.
FatherVenditti.com
6:41 AM 3/11/2018 — Lætáre Sunday, so named because of the first word of today's Introit: "Lætáre, Ierúsalem, et convéntum fácite, omnes qui dilígits eam…. Rejoice, Jerusalem, and all who love her. Be Joyful, all who were in mourning; exult and be satisfied at her consoling breast" (cf. Isaiah 66: 10-11). It's the one day during Lent where flowers are allowed to decorate the Altar and, in some parts of the world,—not in our country but in many places—the only day in Lent in which instrumental music is allowed in church. Rose colored vestments typically replace the dark violet usually worn this season.
     And we mark the day by reading a Gospel verse with which we are all familiar: John 3: 16: "For God so loved the world, as to give his only begotten Son: that whosoever believes in him may not perish, but may have life everlasting," the linchpin, if you will, of Protestant theology, so forcefully preached by the founder of the Methodists, John Wesley. He was an Anglican layman, born in England, who set out to reform the Church of England from within, but unintentionally ended up founding his own religion, which today is known as the Methodist Church. He died in the United States in 1792.
     Wesley's particular contribution to the history of American Protestantism was an institution that continues to this day, called the Revival. You've seen them before on television. It can take various forms; but the one part of the revival which never changes is when everyone comes forward with their hands raised up declaring they are saved. And how can someone declare himself to be saved? Because, in John 3: 16 Jesus says that all you have to do is believe in Him and you're saved. Nothing else is required. No sacraments. No priests. No Eucharist. No confession. Nothing. Just declare your faith in Jesus, and you're going to heaven. It's a classic example of Protestants doing what they do best: taking an isolated verse of Scripture totally out of context, and turning it into a maxim of dogma all by itself; which, of course, it not how the Bible is meant to be read.
     So, what is our Lord trying to say, and why do we read it as we approach the end of Lent? Well, if you look at the whole passage in which this central verse about faith is contained, Jesus is trying to explain to Nicodemus that the salvation of mankind will come about when the Son of Man, which is how our Lord refers to himself, is lifted up for all to see, just as Moses lifted up the serpent in the desert. Our Lord is referring to an event which takes place in the Book of Numbers (cf. 21: 6-9). When the Israelites were wandering in the desert, they were bitten by poisonous snakes; and, God told Moses that if he made a bronze snake and lifted it up on a pole, anyone who looked at it would be saved.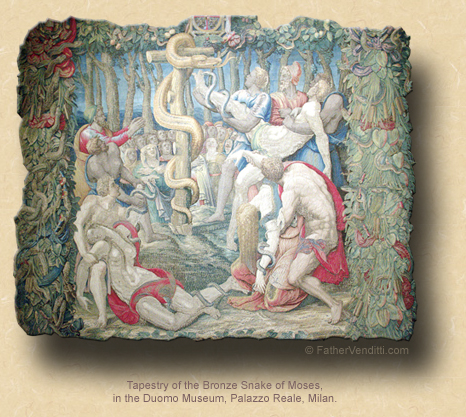 But our Lord points out that the snake that Moses lifted up could only cure the people of a physical illness. They still had to be cured of the spiritual illness of sin. And that is to be done not by lifting up a snake on a pole, but by lifting up a man on a poll, a man who is also God. What our Lord is trying to explain to Nicodemus is that salvation will come from the cross. And this is the context of that famous verse about faith so loved by the Protestants, and yet so misunderstood by them:
And as Moses lifted up the serpent in the wilderness, so must the Son of man be lifted up, that whoever believes in him may have eternal life. For God so loved the world that he gave his only begotten Son, that whoever believes in him may not perish but have eternal life … And this is the judgment, that the light has come into the world, and men loved darkness rather than light, because their deeds were evil. For every one who does evil hates the light, and avoids the light, lest his deeds should be exposed. But he who does what is true steps into the light, that it may be clearly seen that his deeds have been wrought in God (3: 14-16, 19-21 RSV).
And right after this discussion the Gospel says that Jesus and his disciples then went to Judea where Jesus is Baptized by John, thus beginning his journey to the cross. The cross is the focus; from the beginning until the end of our Lord's public life, the cross is the focus. What does it mean to "believe" in the Son of man as our Lord describes it here? It means to believe in the cross. Just as the Israelites believed in the snake on a pole, so we believe in the God on the pole. To stand in the shadow of the cross means to stand in the light, with your deeds clearly exposed, with nothing to hide, because of a life lived with God.
     We are sometimes tempted to become Wesleyans or Methodists—not in fact, of course, but in belief—because we want to believe that saying it is enough. We show up on Sunday, sometimes; we go through the motions; we allow ourselves to be counted in some ecclesiastical head count. What more is required? Well, when we get to the end of Lent and enter into Holy Week, we will see what more is required: not just saying it, but living it, like our Lord did when He gave his life.
     "For God did not send His Son into the world to condemn the world, but that the world might be saved through him." And the world is saved through Him because He died on the cross to pay for our sins, so that we wouldn't have to. But what that presupposes is that we're now going to live as if we've been saved.