Eternal Rest Grant unto Them, O Lord, and Let Perpetual Light Shine upon Them.

[Selections from Matins.]
Lessons from the Proper, according to the Extrardinary Form of the Roman Rite:

The First Mass:
I Corinthians 15: 51-57.
Psalm 111: 7.
John 5: 25-29.
The Second Mass:
II Machabees 12: 43-46.
[Gradual as above.]
John 6: 37-40.
The Third Mass:
Apocalypse 14: 13.
[Gradual as above.]
John 6: 51-55.

The First Class Feast of All Souls.*
Return to ByzantineCatholicPriest.com.
10:15 AM 11/3/2014 —
From the Book of Saint Augustine, Bishop, on Duties Toward the Dead.
Chapters 2 & 3.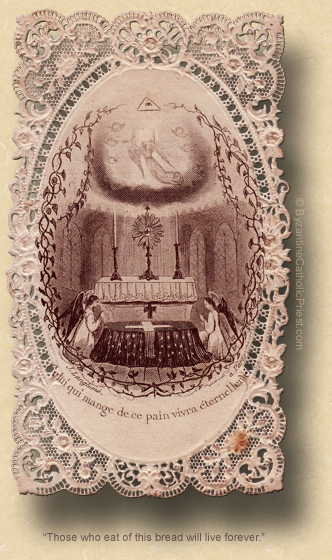 The arrangements for burial, the preparation of the tomb, the funeral procession are rather a solace for the living than a help to the dead. But that is no reason for neglecting or abandoning the bodies of the dead, especially those of good and faithful persons – a body which the spirit used as an instrument and vessel for all good works.
     For if a father's clothing and ring or anything of the kind is dear to his children because of their affection for their parents, their bodies are not to be disregarded, which were closer and more one with them than any clothing. For these are not some ornament or instrument that is added from without; they belong to the very nature of man. And for this reason the funerals of the just men of old were carried out with dutiful piety, their burials celebrated and tombs provided; and they themselves, while they were alive, gave commands to their children as to the burial and even the later transferal of their bodies.
Chapter 4.
A love marked by remembrance and prayer is shown toward the departed by the faithful who were most dear to them. There can be no doubt that such a love profits those who in their earthly lifetime proved worthy of receiving it after death. Even if some necessity makes it impossible to bury a body, or to bury it in a Holy place, still supplications for the spirit of the dead person are not to be omitted.
     And the Church undertakes to offer these supplications in a general commemoration for all who die in the Christian and Catholic fellowship, even though their names are not mentioned, so that those who lack parents or children or relatives or friends may have these prayers provided for them by the loving mother of all. Actually, in the absence of such prayers, offered for the dead with true faith and piety, I think there would be no advantage to their souls in having their soulless bodies buried in consecrated ground.
Chapter 18.
Since this is so, we should not think that anything reaches the dead whom we care for, except what we solemnly ask for them by the sacrifice of the altar or by prayer or almsgiving. In fact, these do not benefit all those for whom they are made, only those whose lives were such that they are prepared to be benefited by them. But because we cannot tell who these may be, we should do these things for all the baptized, so that none be left out whom these benefits could and should reach.
     For it is better that they be superfluous for those whom they can neither hinder nor help than that they should be lacking to those whom they would help. But each person does these things very diligently for his relatives and friends, in expectation of a similar remembrance from the relatives and friends who will survive him.
     What is done as to burying the body is not an aid to salvation, but rather a duty of humanity, prompted by the love according to which "no one hates his own flesh." And so it is fitting that each man care for the body of his neighbor as best he can, when the neighbor has gone where he cannot care for himself. If those who do not believe in the resurrection of the body do these things, how much more should those carry them out who do believe. Carrying out this office for the dead body which is to rise and live forever is a kind of witness to faith in the resurrection.
* In the Extraordinary Form of the Roman Rite, All Souls Day is transfered to Monday whenever November 2nd falls on a Sunday. This is not true in the Ordinary Form.