Twisted 'Round for No Reason.

Lessons from cycle II of the feria, according to the Ordinary Form of the Roman Rite:

Ephesians 6: 1-9.
Psalm 145: 10-14.
Luke 13: 22-30.

The Thirtieth Wednesday of Ordinary Time.
Return to ByzantineCatholicPriest.com.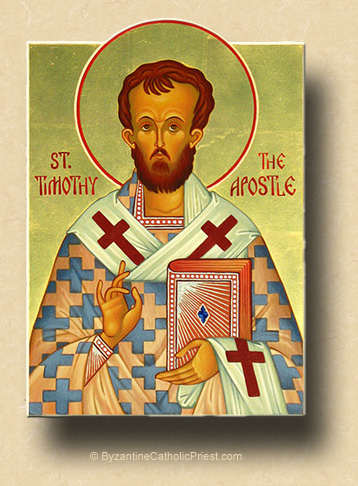 9:47 AM 10/29/2014 — So far this week the Missal has given us to read from the Blessed Apostle's letter to the Ephesians, and today and tomorrow we have the last of it, so we should just review the situation he's addressing briefly.
     Ephesians really has to be read along side Second Timothy because they were written at the same time. Timothy was a close friend of Paul's who had traveled with the Apostle on his first missionary journey and had even been arrested with him, so they were old cell mates. When Paul established the Church in Ephesus, he made Timothy the bishop there; but, Timothy was very young, perhaps too young to have been made a bishop, and the people there rejected him; so, Paul wrote to the Ephesians to set them straight about their duty to obey their bishop, and he wrote a personal letter to his friend to encourage him. These are, in fact, his last letters; he's under arrest again when he writes them. He writes them in transit as he's being taken to Rome to be tried for treason, so he knows that he will soon be dead, and the subject of his own eternal judgment is on his mind. His advice to Timothy in the letter addressed to him is practical enough, encouraging him to plod along with his priestly duties and embrace his suffering as participation in Christ's, but it causes him to reflect on his own imminent death, and I'll give you Msgr. Knox's translation because it is so clear and expressive:
It is for thee to be on the watch, to accept every hardship, to employ thyself in preaching the gospel, and perform every duty of thy office, keeping a sober mind. As for me, my blood already flows in sacrifice; the time has nearly come when I can go free. I have fought the good fight; I have finished the race; I have redeemed my pledge; I look forward to the prize that is waiting for me, the prize I have earned. The Lord, the judge whose award never goes amiss, will grant it to me when that day comes; to me, yes, and all those who have learned to welcome his appearing (2 Tim. 4: 5-8 Knox).
It puts the Apostolic lessons from Ephesians we've been reading this week, with their exhortations to obedience, cloaked in the metaphor of family life, into context. In yesterday's lesson, you may remember, he spoke about husband and wife, in that famous passage from Ephesians Five about wives being submissive to their husbands, and which everyone tries to squirm their way through to try and pretend it doesn't really say what it says, and today's lesson speaks about children. The mistake everyone is making is in not recognizing the metaphor, which only highlights how important it is to read the Scriptures with the Fathers of the Church, in this case, our Holy Father John Chrysostom, who says—and I'm quoting him here:
As a man in forming a body, places the head first, after that the neck, then the feet, so does the blessed Paul proceed in his discourse. He has spoken of the husband, he has spoken of the wife, who is second in authority, he now goes on by gradual advances to the third rank—which is that of children. For the husband has authority over the wife, and the husband and the wife over the children. Now then mark what he is saying. "You who are children must shew obedience in the Lord to your parents; it is your duty; Honour thy father and thy mother—that is the first commandment which has a promise attached to it, So it shall go well with thee, and thou shalt live long to enjoy the land" (Homily XXI).
That last sentence is him quoting today's reading.
     And this is where everyone gets Ephesians wrong, and allows themselves to get all twisted 'round trying to maneuver themselves out of the notion that wives need to be submissive to their husbands, because the Epistle isn't at all about the love between husband and wife; that's just a device that he uses to represent the situation he's really trying to address, which is the relationship between a local Church and its bishop; in this case, a bishop who is a very young man, appointed over a relatively long-established Church full of people who, no doubt, thought that each of them would have been a better choice. The Apostle is trying to deal with the problem from both ends: writing to the Ephesians to remind them of their duty to obey, and writing to his friend, Timothy, to exhort him to persevere and rule with a wisdom perhaps beyond his years. That doesn't prevent him from addressing some of the issues of the day, and we'll have a look at that tomorrow in the last bit from this letter that the Missal presents to us; but, for now, let it suffice to remind ourselves of that point that the Apostle is really making: that whenever we obey—whether it's in the context of marriage, or children obeying their parents, or a priest obeying his bishop, or any of us obeying the Church—it is really Christ we are obeying, since all earthly authority flows from Him.