9:01 AM 3/4/2019 — [Program 401] This update to your Radio theater is longer than usual, and here's the reason: In a previous Facebook post, I had imprudently suggested that I might include Paul Jensen's excellent commentary on my favorite Universal horror film, The Mummy (1932), in my next update to your Radio Theater. Then I decided: "Why not?" So, here it is, appended to the end of this program. Keep in mind that, while Universal produced a whole series of Mummy films between '32 and '44, the first one featuring Boris Karloff was a one-off; none of the subsequent, campy films which followed continued the plot line of the original, but branched off on an entirely new—and vastly inferior—plot line, involving "Tana leaves" and a slow, lumbering brute wrapped up in bandages, neither of which had anything to do with the original film.
     Of course, what you'll hear is Mr. Jensen's commentary without the benefit of seeing the film along with it; that's because this is an audio program exclusively. But I think it's very instructive and fascinating nonetheless, and I think you'll enjoy hearing it.
     Before you can hear it, however, there's the rest of this week's program to endure, which is comprised by the following:
The third and fourth installments of our 1931 Australian serial of Mary Shelly's Frankenstein.

An April 10th, 1949, episode of Rocky Jordan entitled "My Quiet Friend."

A March 21st, 1952, adventure of Richard Diamond, Private Detective, called "The Hank Burton Case."

An amusing episode of The Story of Dr. Kildare called "Dr. Carew Gets the Medical Examiner Mixed Up," from September 7th, 1950.

A September 12th, 1949, yarn from Inner Sanctum Mysteries called "The Vengeful Corps."
     Again, I apologize for the sporadic nature of these updates, and hope that you are enjoying these Old Time Radio programs.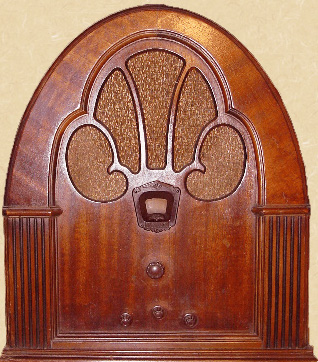 The embedded player is located in between the radio and this text. If you can't see it, it's because your browswer doesn't support the player, but you can listen to the program by clicking here.
Click here to return to FatherVenditti.com©.

Each week, you'll be hearing a number of Old Time Radio Shows, spliced together into a single audio stream. What follows are descriptions—and a little history—of the various programs currently being featured, along with the date each one was added to the rotation: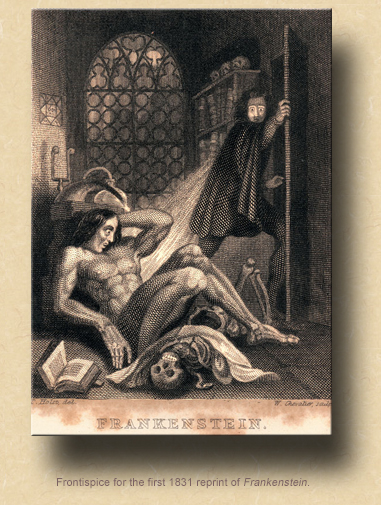 1. Frankenstein [added 2/1/2019]: This 1931 serial of Mary Shelly's Frankenstein; or, The Modern Prometheus, published in 1818, was produced by and stars George Edwards (1886-1953), a pioneer of the radio serial in Australia. Prior to that he was a comedian, vaudeville artist, acrobatic dancer and stage performer. Inasmuch as I've been, for some time now, a devotee of the podcasts of "Paul Rex" (who hails from Australia), I'm pleased to add, if only for a few weeks, an Australian contribution to our Radio Theater.
     If you haven't read the novel—well—let's just say that you should. It's certainly one of the best novels I've read. Frankenstein is less of a scientist and more of a cross between a modern philosopher and a medieval alchemist. His creature is brought to life not by flying sparks and lightening bolts, but by a quiet chemical reaction. Far from a grunting Boris Karloff in heavy boots and makeup, Frankenstein's creation is a "Pinocchio" in search of his humanity; Shelley pens a climactic conversation between creator and creature that goes on for two whole chapters, in which the two adversaries debate the nature of the soul: principally, whether the creature has one. It's a parable of man wrestling with his "god" about the nature and limitations of his own genesis.
     While this serial doesn't quite follow the book exactly, it's closer than most other radio or filmed versions. There are thirteen episodes of this mysterious Australian 1931 series, each being slightly more than twelve minutes in length. Your Radio Theater will present them two at a time for now, along with the other shows currently being featured.
2. Rocky Jordan. [added 2/23/2018]: Rocky Jordan was a nationally heard resurrection of a fifteen-minute serial heard in California on CBS West from 1945 through '47. The original, called A Man Called Jordan, clearly took its inspiration from the 1942 film Casablanca, though nothing written about the show makes the connection (except in my mind, since I'm the one making the connection). Jordan was a restaurateur in Istanbul who had odd but brief adventures of various natures. Only two of those fifteen-minute shows are extent. When the show went national on October, 1948, on CBS on Sunday evenings in a half-hour format under its new title, Jordan's restaurant was uprooted from Turkey and plopped down in Cairo—"gateway to the ancient East, where modern adventure and intrigue unfold against the backdrop of antiquity" (from the show's introduction). His restaurant was also given a name: the "Cafe Tambourine."
     Jordan was a rugged hero who, each week, was confronted by a crime, a mystery, a beautiful woman, or a combination of all three, though it's very rarely explored why Jordan, a saloon keeper, chooses to get involved in these adventures. Nevertheless, it was clearly a detective show, but with a twist: the Oriental backdrop was played to the hilt, giving it a sound like no other show on the air. Writers Larry Roman and Gomer Cool strove for authenticity and flavor; and, while Rocky's Cafe Tambourine was given no street address, all the surrounding Cairo streets were real. Most of the information about the city, in fact, they got from the Army's Pocket Guide to Egypt, distributed to armed forces personnel about to be sent there.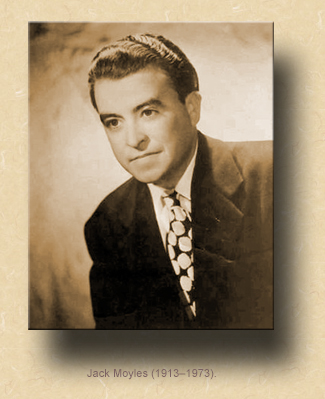 Roman and Cool were also aided at one point by an Egyptian writer, Anderoux Bittar, who wrote stories about Hollywood because he felt the settings of his native land were too common.
     Most of the ideas for Rocky's adventures were taken from Egyptian newspapers. For example, if an Egyptian dug up a relic on his property and got caught trying to sell it on the black market, this could become the script of a Rocky Jordan episode. Played by seasoned radioman and professional tough guy, Jack Moyles, Jordan usually got himself involved in the matter by happenstance, which would bring him into contact with the Cairo Police in the form of Capt. Sam Sabaaya (played by Jay Novello), who was often on hand to slap the cuffs on the criminal at the end. The musical score was exceptional for radio at the time, with Oriental sounding music by Richard Aurandt, and Larry Thor's announcing likewise lent to the show's grit. It was sponsored by Del Monte Foods, and directed by Cliff Howell.
     In June, 1951, the show moved to Wednesdays, and Moyles was replaced by George Raft. While much better known than Moyles because of his film career, Raft's only real contribution to the show was his well-known name, as his portrayal wasn't nearly as effective as Moyles, and the show ended three months later in August.
     Rocky Jordan is heard on FMRT© due to the kind generosity of the Old Time Radio Researchers Group on Google.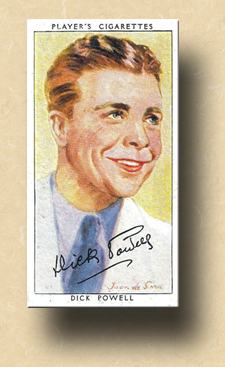 3. Richard Diamond, Private Detective [added 8/27/2016]: It was on November 30th, 2009, that Father Michael's Radio Theater© first hit the Internet, though it wasn't called that at the time. In fact, it didn't have a name; it was just a little diversion added to a blog I was running which was very different from this present web site: more opinion oriented with an occasional homily thrown onto it once in a while. The program's format was different, too: there was only one episode of one show each week—never the same show twice in a row—and the very first program was an episode of Richard Diamond, Private Detective.
     Premiering on NBC on April 24th, 1949, the show was created specifically as a vehicle for it's star, the versatile Dick Powell, a baby-faced singer who, in the early 1930s, already had a promising career as a staple of Hollywood musicals, but who wanted desperately to change his image. On contract with Warner Brothers, he was routinely cast as an eternal juvenile, required to play—in his words—"the same stupid story" over and over again. In frustration, he purchased his own contract from Warners and moved to Paramount in the '40s, but the meaty dramatic roles he coveted were slow in coming. He had tried out for the lead in Double Indemnity, but when he lost out to Fred MacMurray, he walked away from Paramount as well. He ended up at RKO where, in 1945, he finally landed the role of his dreams, playing Philip Marlowe in Murder, My Sweet; and, with one role, his new career as a tough guy was launched.
     In quick succession, he made Cornered and Johnny O'Clock before moving into radio, where he had a couple of hard-boiled roles—as gumshoe Richard Rogue in Rogue's Gallery (1945-46), and well-baked reporter Hildy Johnson in The Front Page (1948)—but neither show gained traction. It was then that he met a young screen writer named Blake Edwards, who had never before worked in radio. As originally conceived, the show Edwards came up with for Powell saw Richard Diamond as a former OSS agent turned private detective; but, just before the show's live premier, the character became an ex-cop whose ties to the police remained sarcastically friendly.

     Drawing on Powell's earlier career as a crooner, Edwards crafted Diamond as a happy-go-lucky New York private-eye who answered his telephone with atrocious commercial jingles and was master of the verbal put down, especially when dealing with his former colleagues at the Fifth Precinct. His relationship with frustrated Lieutenant Walt Levinson was abrasive but rooted in genuine friendship, and his special delight was ribbing the stupid desk sergeant, Otis, a "Keystone Cop-esque" character added solely for comic relief, not that this show needed any. The show opened with Henry Russell's Leave It to Love whistled by Powell, and the end of each episode found Diamond in the Park Avenue penthouse of his red-headed girlfriend, Helen Asher, crooning out a tune for her—often borrowed from Powell's early singing career—while playing on her piano.
     Though most of the later episodes of the show's five year run were transcribed, the show started out as a live performance and, for that reason, both Powell and Edwards took their time developing the character of Diamond based on audience reactions. The early episodes, for example, don't stand out as unique from other wise-cracking gumshoe dramas; but, as the show progressed, a formula began to emerge which mingled a rip-roaring mystery yarn with a campy, good-natured banter between the principals, with a few episodes descending into out-and-out comic diversions. It began life on NBC in various time slots, first on Sunday then on Saturday, finally on Wednesday, and sponsored by the Rexall drugstore chain. In 1951 the show was sold to ABC and aired on Friday, sponsored by Camel Cigarettes, with Rexall returning as sponsor after the summer hiatus, before moving again to CBS in 1953 as a replacement for Amos 'n Andy (though the CBS run, also sponsored by Rexall, reused many broadcasts from earlier seasons). The last show aired on September 20th of that year. Not all of the shows are extent, but most of them are, and your Radio Theater will present all there is to hear.
     A lot of future TV stars were heard in this program over the years: Lt. Levinson was played Ed Begley and Arthur Q. Bryan in succession, Rick's girlfriend Helen by Virginia Gregg and Frances Robinson, and Wilms Herbert often doubled as Sgt. Otis and Helen's butler, Francis … not to mention a whole host of guest stars. At some point during the run, Blake Edwards got his first experience as a director, taking over for veteran radioman William P. Rousseau of Escape fame.
     Richard Diamond's last gasp of life was on television, from 1957 through 1960, but the role as played by David Jansen bore little resemblance to the Powell original. The most notable gimmick of the TV series was the addition of a secretary, Sam, who was seen only as a pair of legs which belonged to none other than Mary Tyler Moore. Blake Edwards would, of course, go on to fame as a writer-director of highly successful comedy films, most notable being his series of Pink Panther movies.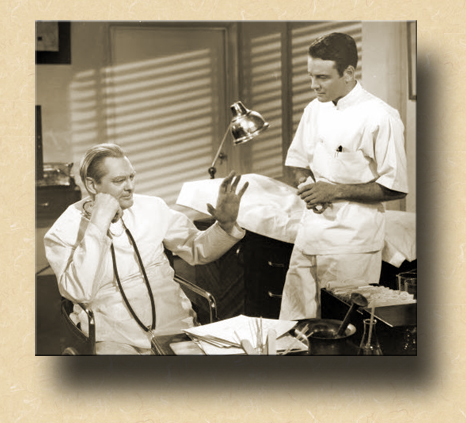 4. Dr. Kildare [added 12/9/2017]: In the history of Old Time Radio, there are a number of shows that were born out of the momentum generated from a popular series of films. Most notable, perhaps, is the long running series of Sherlock Holmes shows on Mutual, which were actually in production at the same time the film series was being produced by Universal, and with most of the same actors—we've heard plenty of them here over the years, as you know. This addition to our program is another example: Dr. Kildare, in some markets billed as The Story of Dr. Kildare, based on the very popular series of Metro-Golden-Mayer films, and starring the actors from the films: Lew Ayres as the young, idealistic physician James Kildare at Blair General Hospital; Lionel Barrymore as Dr. Leonard Gillespie, the crusty but lovable diagnostician; Jane Webb as Mary Lamont, trying to reconcile to Kildare being married to his job instead of to her; Ted Osborne as Dr. Carough, the officious chief of administration; and Virginia Gregg as the chattering Nurse Parker.
     Like the films, Dr. Kildare was the story of a young doctor constantly doing battle with silly hospital administrators, navigating conflicts with ignorant patients, and tackling medical dilemmas which seem baffling to everyone else around him, but it was all done in a slightly comic overtone as he rubbed up against the eccentric characters with which he is surrounded. In fact, sometimes Blair General seems more like a funny farm than one of the country's most celebrated medical centers. Dr. Gillespie, played to the hilt by Barrymore, was eccentric in his own right; the petty bureaucrat Dr. Carough was their chief antagonist, and Nurse Parker was an unbelievably fussy old maid.
     The show was entirely syndicated, produced on the West Coast beginning in 1949, but launched at WMGM in New York in 1950 for national broadcast, then moving to WOR in New York for it's final season in 1952. In a few of the episodes, listen for the voice of Perry Mason star Raymond Burr. Special thanks to the Old Time Radio Researchers Group on Google, for their generosity in making this show available to Father Michael's Radio Theater©.
5. Inner Sanctum Mysteries [added 11/12/2016]: Creator, producer and director Himan Brown (1910-2010), many years after his show had run its course, loved to tell the story of its genesis: in a studio where he once worked, the door to the basement gave off an ungodly creak whenever anyone opened it, and one day it occurred to him: he would make that door a star!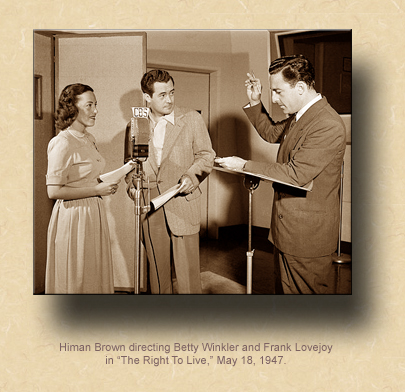 It was a seminal moment in radio history, for the show that grew out of it would be remembered decades after radio itself ceased to be dramatically viable, ultimately mutating into a horror media mini-empire all it's own. The campy, off-beat horrors of Inner Sanctum Mysteries began and ended with that creaking door. It was the greatest opening signature device ever created. Once that door was opened, it drew listeners into a dark, dank inner chamber of the mind where every week, for more than a decade, were staged some of the most farfetched, unbelievable and downright impossible fear-fests ever produced for a medium not known for restraint.
     Though the show—which took its name from Simon & Schuster's series of Inner Sanctum mystery novels—was a strange combination of horror and humor, the stories were played strictly for chills. No matter how strained the conclusion or how deep into his bag of tricks a writer had to dig to put it all together, there was never a hint that the dark world being presented was anything but real. At the same time, the yarns were introduced by a host who trotted out every conceivably ghoulish pun he could think up to liven the mood. The grim, creepy whine of the studio organ set the stage, becoming a star of the show in its own right, moaning out a worrying, fretting and macabre introduction for what was to follow. A doorknob turned and the door swung open slowly, the creaking agonized and broken. Then came Raymond, the host, with gruesome jokes about losing one's head or hanging around after the show, or perhaps beating the high cost of dying: ectoplasm with a heaping helping of deep friend corn, and Raymond's story was about to begin. This was the epitome of radio melodrama.
     The early days of Inner Sanctum offered a generous mix of classics and original stories; and, if you like to hear familiar voices from the movies in your Old Time Radio shows, Sanctum will serve them up in abundance. Boris Karloff was a regular, heard in, among others, the Poe classics "The Telltale Heart" and "The Fall of the House of Usher."
Peter Lorre, George Coulouris, Paul Lukas and Claude Rains were also star performers, but it was Karloff who propelled it; already famous through his film portrayals of Frankenstein's monster, he was heard more than fifteen times in this show between 1941-42 (most of this first season is, unfortunately, not extent). While the networks were under constant pressure from parents groups to roll back some of the graphic content, Karloff continually lobbied for more gore: his public, he argued, expected it. By 1943, Karloff was gone as a regular, returning only for the occasional guest role; but, the series never slowed down, and began to settle into its own niche with excellent performances by some of the unsung unknowns of New York's radio industry, some of whom wouldn't remain unknown for long: Richard Widmark, Larry Haines, Everett Sloane, Lesley Woods, Anne Seymour, Stefan Schnabel, Arnold Moss, and on and on.
     Only on Inner Sanctum could a man be haunted for forty years by the wailing of his dead wife driving him to confess to her murder, only realizing afterward that the sound was the wind rushing through a hole in the wall where he had sealed up her body. Only here would a man be sentenced to to life in prison after committing murder to obtain a formula that made him immortal. Dead men were seen in crowds, ghosts fluttered in the window at midnight, voices wafted in the wind. What made the show so outre was the fact that, more often than not, everything was told from the point of view of the evil antagonist: the listener is made to share his anger, his madness, his paranoia; and, in the end, Raymond would return for the body count, throwing in just one more groaner of a pun before bidding his listeners a suitably creepy "Pleasant dreeeeaaams, hmmmmm?" as the door creaked shut.
     Raymond, by the way, was Raymond Edward Johnson, who used his own first name. He would eventually be replaced by Paul McGrath in 1945, who had a somewhat brighter demeanor, but made up for it by being even campier.
     This show was early, beginning life on the Blue Network (a progenitor of NBC) in January, 1941, then jumping around a bit, to CBS, ABC, and finally landing back on CBS for the final 1952 season.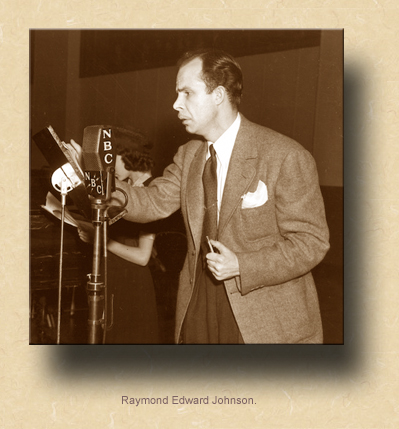 It bounced around in various time slots as well, and had a variety of sponsors over the years: Carter's Little Liver Pills, Colgate, Lipton Tea, Bromo Seltzer, Mars Candy and, finally, Pearson Pharmaceuticals. Of the 536 episodes produced, only 153 are extent; your Radio Theater has been able to collect 141, and will present as many as can be put into listenable condition—so, this show will be in our lineup for a while. Don't worry, you won't be board.
     Though underwritten by Simon & Schuster to promote the sale of their books, the show remained independent of them, and none of the episodes were based on them; but, the popularity of the series could hardly be contained on radio. During the height of its powers (1943 through '45), it spilled over onto the silver screen in six low-budget feature length films produced by Universal, all starring Lon Chaney, Jr.; and, in 1945, Himan Brown produced and directed a single season of an Inner Sanctum television series. And if the show's creaking door opening sounds familiar, that's because it would be used again in Brown's last radio series: The CBS Radio Mystery Theater, which ran from 1974 through 1982, with E. G. Marshall and Tammy Grimes as the hosts; when reruns of it were broadcast in the 1990s, Brown himself was heard mimicking Raymond's famous sign-off line: "Pleasant dreeeeaaams, hmmmmm?" After a remarkable career during which he produced over 30,000 radio shows of every kind over seven decades, Brown's own personal door creaked shut for the last time in 2010, just a few weeks shy of his 100th birthday.
Click here to return to FatherVenditti.com©.
Probably the most recognized of all old fashioned radios, the 1931 Philco Model 90 "Baby Grand" (used as our embedded player at the top of the page), often mistakenly referred to as a "cathedral radio," was an upgrade from the smaller Direct Current seven-tube Model 70, and was the first in the "Baby Grand" series to operate solely on Alternating Current. 106,050 were made, and sold for $69.50 each. 1931 was the last year that Philco offered Direct Current only radios, with most of the new models being superheterodynes, and able to operate on both AC and DC. It was also the first year that Philco offered battery powered radios, intended for the rural market, four years before the "Rural Electrification Act." Though most of these were floor consoles, a few of these were in the "Baby Grand" design.
    The Phico Battery and Socket Power Company entered the radio market in June of 1928 with a group of models known collectively as the "511 series," a collection of both floor consoles and table top radios built around the same seven-tube chassis. Designed to operate on 105-115 volts of 60-Cycle Alternating Current, they could be tuned to between 550 and 1500 kilocycles of "Standard Broadcast," a fraction of what today is known as the AM Band (though this was the total broacast spectrum at the time). Although Philco had entered the radio market late, what made Philco's radios revolutionary was the built-in power transformer, which distinguished the radios from those of their competitors which required a speparate, large and cumbersome transformer. The Phico radios' weak point was the high-impedance magnetic speakers they used which, by 1928, were already becoming obsolete; moreover, the table top models were still quite large, covering the entire table, and requiring a separate, detached speaker. At a cost over $100.00 (vacuum tubes not included), they were clearly rich man's toys in those days. Nevertheless, Philco would finish the year in 26th place in the radio industry; not bad considering their radios had only been on the market since the latter half of the year.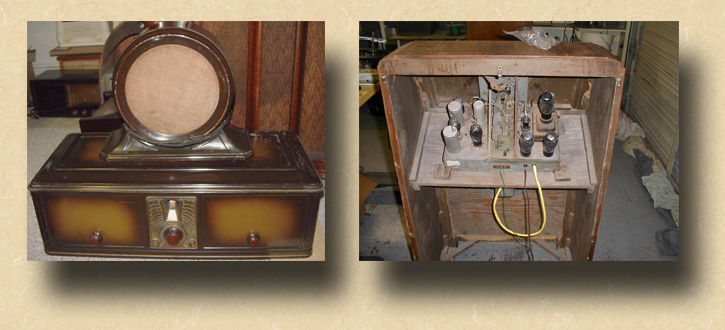 Left: this 1928 Model 511 "Brown" is shown with a standard Model 211 Speaker on top. The speaker did not have to be placed on top, though most owners did; which begs the question why they didn't simply design a single unit. The reason may be that the already antiquated and fragile high-impedance speaker didn't last nearly as long as the radio. The "Brown" was the simplest model in this series; other models, though identical in shape and on the inside, had elaborately decorated exterior cabinets.

Right: the revolutionary seven-tube chassis with built-in power transformer, used in all the 511 series models, is shown here in a floor console undergoing a restoration. The yellow wire runs to the speaker located in the lower compartment. The speaker shield has been removed in this photograph. This console is relatively simple; later models would have extravagant features such as pull-out writing desks, turntables, and, in one model, a built-in telephone.
    In 1930, the designers at Philco, in an attempt to reduce the size of the radios, compressed their chassis and intalled it in a decorative upright cabinet which they named the "Baby Grand." The first in the "Baby Grand" series, the beehive-shaped Model 20, was introduced in August of that year, and cost $49.50 (again, without the tubes). What followed was a series of upright radios which would become the image of the "old fashioned" radio with which most people today are familiar. During the next six years, Philco's many "Baby Grand" designs became more and more elaborate, as they sought to create stylistic works of art around the basic upright shape. At the same time, the chassis inside these radios became more advanced, offering such features as larger, lighted tuning dials, and, on a few models, a primative but unique automatic tuning feature, pre-set at the factory to the customer's specifications, which would stop the dial at certain points while being turned manually.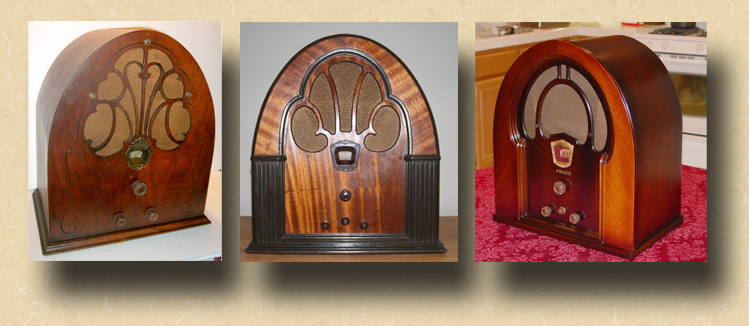 Left: the 1930 Model 20 was the very first radio in the "Baby Grand" series.

Middle: the 1931 Model 70, of which the larger Model 90 (shown as our embedded player) was an upgrade, was the last Philco radio to run solely on Direct Current. The two-toned finish shown here is not standard, but is the result of an "artistic license" in restoration.

Right: with its graceful lines and lighted dial, the 1932 Model 71B may be the most beatiful radio ever made, as can be seen in this newly discovered and fully restored example. This particular cabinet style would become one of Philco's most popular "Baby Grand" designs, and would be replicated in several newer models, with slight variations, in the years that followed.
    By 1936, Philco had reduced the size of their chassis even further, and discontinued designing new radios in the "Baby Grand" series; however, they continued to offer alternate versions of newer radios in previously utilized "Baby Grand" designs for those who still desired the classic cabinet, even though the chassis they contained did not require a radio of that size. The last of these was the 1939 Model 39-70, a four-tube battery operated radio for use in rural areas, which sold for $29.95.
    Contrary to popular myth, these radios were never known as "Cathedral Radios" or "Beehive Radios" until long after they had ceased to be produced and sold. These popular terms came into use only decades later, after the radios had become collectors' items. In their own time, all of Phico's table-top uprights were known as "Baby Grands," regardless of the shape of the cabinet.
Left: with its bold lines, circular speaker grill and minimalist single-knob control, the 1934 Model 84 was Phico's first venture into the world of Art Deco deisgn in a "Baby Grand" radio.

Middle: Philco dove head-first into an Art Deco world gone mad in the 1935 Model 16B. With it's sleek, elegant lines and two-toned finish, no Park Avenue penthouse could be without one.

Right: sometimes called the "Farm Radio," the 1939 battery-operated Model 39-70 was an uninspired design, built primarily for economy. Its tomb-stone shaped cabinet was the last of the "Baby Grand" designs, even though its four-tube chassis was originally built for a much smaller and more modern radio.

Below: nick-named the "Bullet," the 1937 Model 37-610T was one of Philco's first dual-band radios (the second band was Short Wave). Starting in 1936, all new Philco table tops were in a similar compact design; but, through 1939, their chassis would sometimes be placed in previously designed upright cabinets for sale to those who still wanted a classic "Baby Grand" radio.