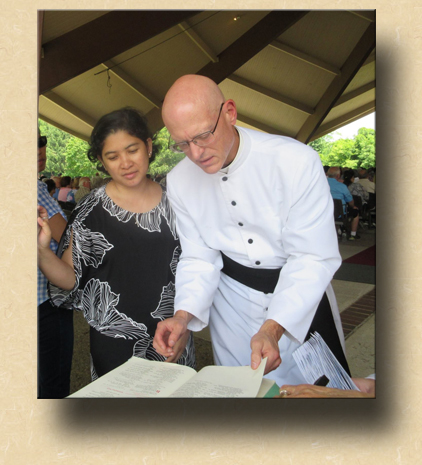 Father J. Michael Venditti was born on December 24th, 1957, in Baltimore, Maryland. He attended Mater Dei School in Potomac, Maryland, and Archbishop Carroll High School in Washington, D.C. He entered the postulancy of the Order of St. Augustine, Province of St. Thomas of Villanova, in 1976, attending Villanova University, then withdrew to study for the Diocesan Priesthood.
     He received the degree of Bachelor of Arts in Thomistic Philosophy in 1982 from St. Pius X Seminary in Erlanger, Kentucky, and the degree of Master of Divinity in 1986 from St. Joseph Seminary, Yonkers, New York. He was ordained to the Catholic Priesthood for the Diocese of Metuchen, New Jersey, on May 30th, 1987.
     Father's online ministry began during his years as a parochial vicar in the early 1990s on the Internet service America Online, where he was known as "Ask Father." Eventually, he was asked by AOL to moderate their Catholic Channel, where he oversaw a number of forums and chat rooms and directed a dedicated staff of volunteer moderators. Desiring to involve more priests in the online ministry, he published "An Apostolate for the Future: Preaching on an Electronic Street Corner" in the November, 1994, issue of Homiletic and Pastoral Review. He gave up his online activities when he was appointed pastor for the first time.
     In June, 1996, he received his certification in Clinical Pastoral Studies at Robert Wood Johnson University Hospital in New Brunswick, New Jersey, and served as chaplain and member of the Ethics Board at Raritan Bay Medical Center in Perth Amboy, New Jersey.
     After serving for ten years in his own diocese as a parish priest and hospital chaplain, Father asked for and received permission to serve as a priest of the Byzantine Catholic Eparchy of Passaic, New Jersey, a diocese of the Byzantine Catholic Metropolitan Church sui iuris of the USA, a self-governing Church of the Byzantine-Ruthenian Rite in union with Rome, in which he served for the next eighteen years, two as a parochial vicar and sixteen as a pastor, but maintaining his incardination in the diocese for which he was ordained. It was during this time that he began posting his homilies on his own website.
     From 2012 on, declining health required Father to gradually scale back the service he was able to provide to his two parishes and, in March of 2014, he was relieved of his pastoral duties and released to return to his native diocese. On June 1st of that year, he was appointed by the Bishop of Metuchen to serve as Chaplain of the National Blue Army Shrine of Our Lady of Fatima in Washington, New Jersey, a place of pilgrimage and prayer within the diocese, operated by the World Apostolate of Fatima, USA, where he now resides. He can be reached at postmaster@FatherVenditti.com.
Click here to return to FatherVenditti.com©.